Simple. Elegant. Classic.
Introducing Kiss The Rain Flagship product: The Vintage Cotton Hoodie, 100% Cotton, designed and crafted in USA with utmost focus on design and quality of construction.
Creating the best hoodies
In 2016 we set out to create the best hoodies possible. We weren't interested in making the cheapest hoodies, or the trendiest hoodies, or hoodies with the highest profit margin. There are plenty of companies out there doing all that already. We simply wanted to make the best hoodies, push hoodie excellence boundaries to the extreme.
So what exactly does it mean, what are the characteristics of best hoodies? How do you decide if a hoodie is truly outstanding, or if it's just a marketing ploy?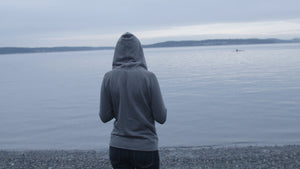 Here is the checklist we used when creating the world's best hoodies
First and foremost, the hoodie has to fit well, it has to be flattering. Just because hoodies are comfortable and casual doesn't mean they should fit like a sack of potatoes. When you're wearing the best hoodie you should look and feel like a million bucks.


Design You can say that a great design is a matter of taste, and to some extend that is true. What is also true is that it is immediately obvious if a piece of clothing is well-designed. Simple, clean lines, classic yet modern silhouette, rich soft colors are all the things to look for when selecting the best hoodie.


Material type Polyester and polyester blend hoodies are dominating the market today, but not because they are better, simply because they are cheaper than cotton. Cotton is still unbeatable when it comes to feel, looks, and softness. It moves better, it breathes better, it simply feels better next to your skin. See why we think Cotton hoodies are best.


Fabric type Traditionally hoodies have been made from fleece, where the inside of the fabric is combed to be fluffy and fuzzy. This feels good agains the skin (if the fleece is cotton, of course), but the fleece makes the fabric a little stiff it doesn't hang so well. A few years ago top designers started making hoodies from a type of material called French Terry, which offer the best of both worlds -- soft and fluffy against the skin, and also soft and pliable enough to have excellent drape.


Last but absolutely not least: Quality of construction The quality of materials used, how well it's sewn and finished, attention to detail, top of the line zipper, the love, time and care someone gave to crafting the hoodie. It is hard to enumerate all the things that make a quality garment, but a quality is something that cannot be faked or missed. A truly well made hoodie will make you smile with pleasure every time you see it, touch it, wear it.